Magnific Escapades, the specialist for distinctive custom-made getaways and company events in Alsace, invites your team to live a true human, gastronomic, wine, and cultural experience. Let yourself be surprised!
Make the best of your valuable time by letting us organize your seminar or your company event in Alsace!
Custom made company events and seminars:  let's build your project together!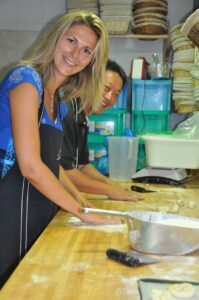 Whether your tastes lean toward classic or toward the unexpected, we can offer your teams a customized quality event in which they can:
be involved in very special moments,
taste the pleasures of a particularly attractive region,
discover an exceptional cultural and historical heritage,
broaden their wine and gastronomic knowledge,
be accompanied by a passionate specialist.
A picnic with a Michelin-star chef, a mountain bike rally on the Wine Route with various tasting workshops, cultural visits, visits of wineries in medieval towns and wine-tasting, mystery role play games, organic pretzel workshops, private concerts…These are some of the numerous activities that we will arrange and personalize for you during your seminar in Alsace!
Your benefits, using Magnific Escapades for the organization of a company event:
An individual and customized offer, perfectly suited to your company needs
A discreet and careful accompaniment
Quality service and offers
We have extensive international company management experience.
You are given all our attention…
We have recently organized the following activities: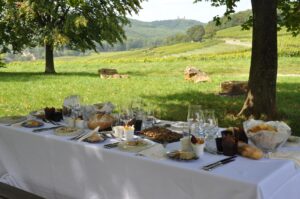 A tasting of the best Rieslings from 1996 with commentary by a Best Sommelier of France.
Exceptional visits of sites within the Cathedral of Strasbourg that are normally off-limits to the public.
A mountain bike rally on the Wine Route around the medieval city of Obernai with tastings of wine, cheese and chocolate.
A presentation of gingerbread secrets associated with wine tasting led by a local winemaker.
Listening to your specific needs and expectations, we will allocate all our efforts for the success of your company events and seminars. The following references demonstrate our customers' satisfaction.
Do not hesitate to contact us, we will build your company event together!